Today more than 3.3 billion of us use smartphones, that is a staggering 43% of the world's population, and that number is growing every day. But for many in the developing world, a smartphone is beyond their reach. On first thought, you would think it is because of the cost of a handset, but the reality is quite reasonable second-hand smartphones can be bought for $20 or less and 3 or 4-year-old flagship phones for $50-100. The biggest stumbling block is, in fact, the monthly costs associated with having a phone, chiefly the cost for a contract or making calls and send messages - especially to friends and family living abroad.
For those of you who already have a smartphone, there is not one of you who doesn't want to cut your monthly bill. And, not only that, use your dags instead of fiat currencies to pay for these services. That is why we are currently putting the final touches into Dagtelecom. A platform that lets you pay for calls and messages with your dags, and call other users on the Dagtelecom network absolutely free!
Want to learn more?? Read on…
Call Anyone, Anywhere
To use Dagtelecom all you need is an Android or iOS-enabled device. This means that not only are you able to make calls with your phone, but also any tablet. This gives even more people the chance to make and receive calls. And, for those with a device but no home or mobile internet, the possibility to make and receive calls using free public Wi-Fi networks.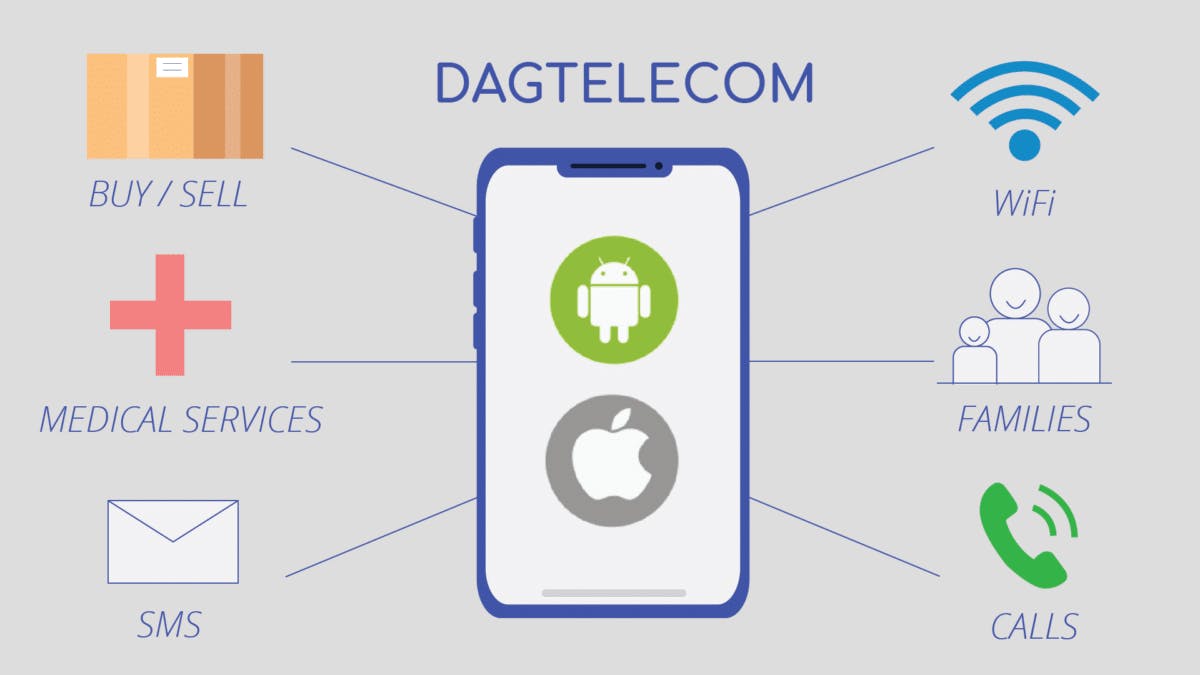 But it doesn't stop there, even in the most rural and least connected parts of the world where entire families or communities may share a phone. People now have a chance to make and receive calls, not just with friends and relatives, but also to buy and sell goods and services, contact local government, and access medical services. Even when calls to paid numbers are needed, these can be paid for using dagcoins. Being able to pay for per call using dags, saves on expensive monthly call plans, and means you only pay for what you use. Not only that, because call costs are low, you will never find yourself out of pocket.
With Dagtelecom, once you are connected to the Internet, you can call any number you wish - domestic or international, mobile or landline - for a reasonable fee. If you are calling another Dagtelecom user that call will be completely free – the best price of all. And it isn't just calls you can make. You can send and receive messages too.
Dagtelecom helps you to stay in touch with the people that matter most to you, all while using your Dags.
Secure Calls and Texts
Today, it isn't just the police and government who have the ability and technology to listen to our telephone calls or read our messages. With it possible today to buy call interception equipment for less than $1000 it has never been easier for criminals to listen to your calls. In turn, with other technology such as malware and computer viruses aimed at stealing passwords and gaining access to online accounts. Our personal information has never been more at risk.
That is why now more than ever, it is crucial to encrypt all the calls you make and messages you send. And why services such as WhatsApp and Telegram have become so popular in recent years. Message encryption is so strong in fact that governments are not even able to break it. This has led to some in the Trump administration calling for encryption messaging services to be banned. However, although a ban would enable the US government to better identify and capture criminals and terrorists, it places ordinary people's data at a much higher risk.
At Dagcoin, we believe in keeping your personal messages and calls secure. That is why all calls and texts made with Dagtelecom will be encrypted. Meaning you can speak and share your information freely without fear or worry that your personal information will be stolen - or viewed by the government.
Easy to Use
Using Dagtelecom will be simple. All you will need to do is download the Android or iOS app – from the Play Store or App Store respectively – and you are good to go. If you want to call someone who also uses the service, simply enter their contact details and enjoy your free call. Catching up with friends, sharing important family news, or closing that business deal couldn't be easier.
If you need to make a paid call simply enter the number – it doesn't matter if it is domestic or international, mobile or landline number. At the end of the call, you will be charged the cost straight from your DagWallet. Don't worry! This fee will be very reasonable.
One last thing! To use Dagtelecom you will need to be connected to the internet, so please make sure either your mobile data is switched on, or you are connected to a Wi-Fi network.
With Dagtelecom currently in the last phase of development, it is the perfect time to share this information with your friends, family and colleagues. So that you are all ready on release day to start making calls and saving money!!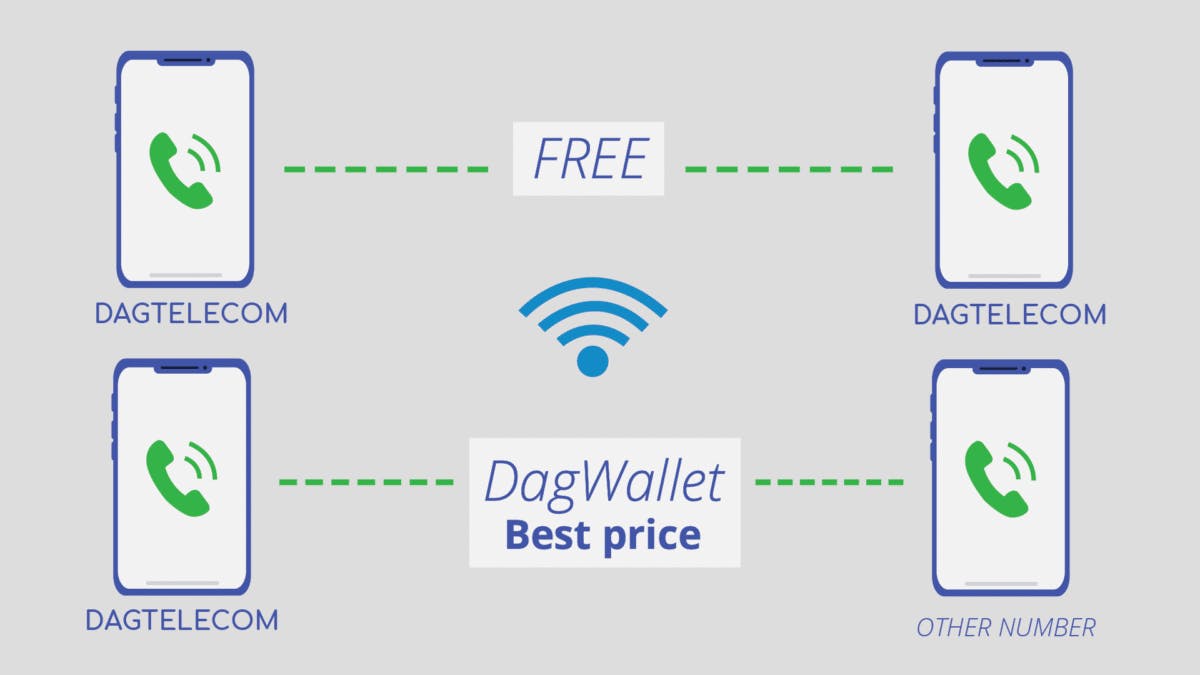 Conclusion
Making calls and sending messages can be expensive, especially if you have to regularly contact people overseas. To get free, or even very cheap calls this almost certainly mean signing up to a fixed monthly plan. For some, this makes having a phone simply too expensive, and, for the rest of us, money that could pay other bills or expenses, or save for a rainy day.
That is why we are putting the final touches to Dagtelecom. An Android and iOS app that lets you call or text any number you wish - domestic or international, mobile or landline, all for a reasonable fee, and using your dags. Not only that, you can call or message any Dagtelecom user absolutely free – the best price of all!!
Dagtelecom doesn't just give you the chance to pay for your calls and texts using your dags. Because all conversations are encrypted this means that all your personal information is kept safe from criminals, and even the government! Giving you peace of mind to always speak freely.
Dagtelecom will be coming to Google Play and the App Store shortly. So let your friends and family know, so you are ready to make free calls the minute it is released.
Join a growing community of 400,000 people using Dagcoin.