Very simply, Dagpay is a payment processing platform aimed at businesses worldwide who want to accept Dagcoin as a payment option.  It doesn't matter if you have an eCommerce store, a bricks-and-mortar business, or you are a freelancer. There is a suite of software specifically designed to help you not just to accept and receive Dagcoin payments, but to take your business to the next level.
Before we start on the benefits of Dagpay, so many of these are made possible by the technology behind Dagcoin. The most obvious of these is the superfast payments that Dagcoin technology offers. For example, the average time for a Bitcoin payment at the moment is 73 minutes. With Dagcoin this is on average just 30 seconds.
This technology along with Dagpay makes it possible for shops to accept Dagcoin payments just as quickly and easily as debit and credit card payments. In fact, it even offers additional benefits. For example, it is impossible for customers to request a chargeback, giving you extra protection from fraud.
It may be hard to believe, but this is just the tip of the iceberg of the possibilities that Dagpay offers you. Here are 5 more….
1. POS System
Having a Point of Sale (POS) System is crucial for any shop, café, bar or gym. Because it is this system that helps you to process customer purchases, accept payments and provide a receipt of sale. With the Dagpay POS app accepting Dagcoin payments couldn't be easier. All you have to do is:
Enter the amount the customer needs to pay
The app then creates a unique QR code
The customer scans this code with their DagWallet or webwallet on their phone
The payment is received
It really is as easy as that. And that isn't all. From start to finish, this process takes just 30 seconds. This makes accepting Dagcoin just as fast and easy as a credit or debit card payment!
Because the app makes it possible to accept payments with any Android smartphone or tablet. This makes it much easier for market holders and travelling salespeople to accept payments, and for smaller static stores to save money on expensive computer systems and software.
To read more about the Dagpay Point of Sale App click here.
2. Webshop Plugins
For any eCommerce business owner, how easily customers are able to pay for your products online is key. The payment process needs to be simple, easy and quick. Not only that, people like to choose the payment option that suits them best, that could be by debit card, credit card, bank transfer, cash on delivery, or via a cryptocurrency. The more payment options a business has, the more potential customers they have.
This is why if you use any of the major eCommerce platforms such as Woocommerce, Magento, you can simply download the Dagpay web plugin for free and start accepting Dagcoin payments right away. If you don't, don't worry. The plugin can be quickly and easily added to any webstore by a web developer, saving you a lot of money in the programming of a customised payment system.
3. Email Invoicing
It doesn't matter if you run a huge multi-national or you are self-employed, sending and paying invoices will be an integral part of your business. That is why Dagpay's email invoicing tool has been developed to help you create and send invoices in seconds.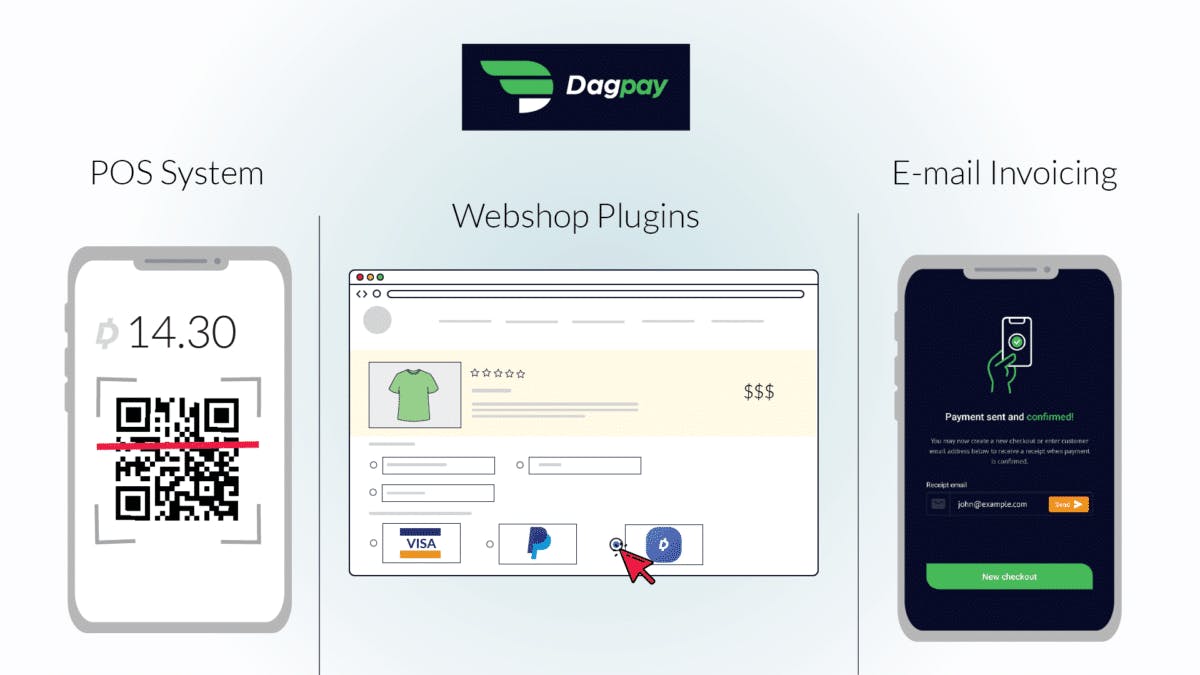 Once your invoice has been received, just like the POS system in shops, this can simply be scanned by the recipient's phone and paid using their webwallet or DagWallet. Because all payments take around 30 seconds, this means that no longer will you have to wait many hours or days for payment. Giving you the peace of mind and finances you need to keep your business running smoothly.
For more information on the different Daypay tools click here.
4. Merchant Finder
Being able to accept and send Dagcoin payments regardless of what kind of business you run is amazing, but it doesn't stop there. What if there was a site where you could find other businesses who also accept Dagcoin?
That is exactly what the merchant finder tool is. Once you have signed up to Dagpay, you will be able to create a free Merchant Finder account for your business. Once completed, you will be able to find other businesses in your local area or sector to partner with. Maybe you are looking for a new supplier or vendor, or perhaps you wish to expand into a new sector or market. You can simply contact the other business in question and begin a dialogue. They can also contact you too. New vendors, suppliers or partners might be just what your business needs to take it to the next level, but that isn't all…
5. Free Marketing
Competition to attract new customers is fierce, this is why most businesses spend on average around 10% of their total revenue on marketing. Despite all this time and expense, the rate of new customers can still be below the number of existing clients leaving. Therefore, what would say if you had the chance to advertise for free to the nation of Iceland? You would jump at the chance!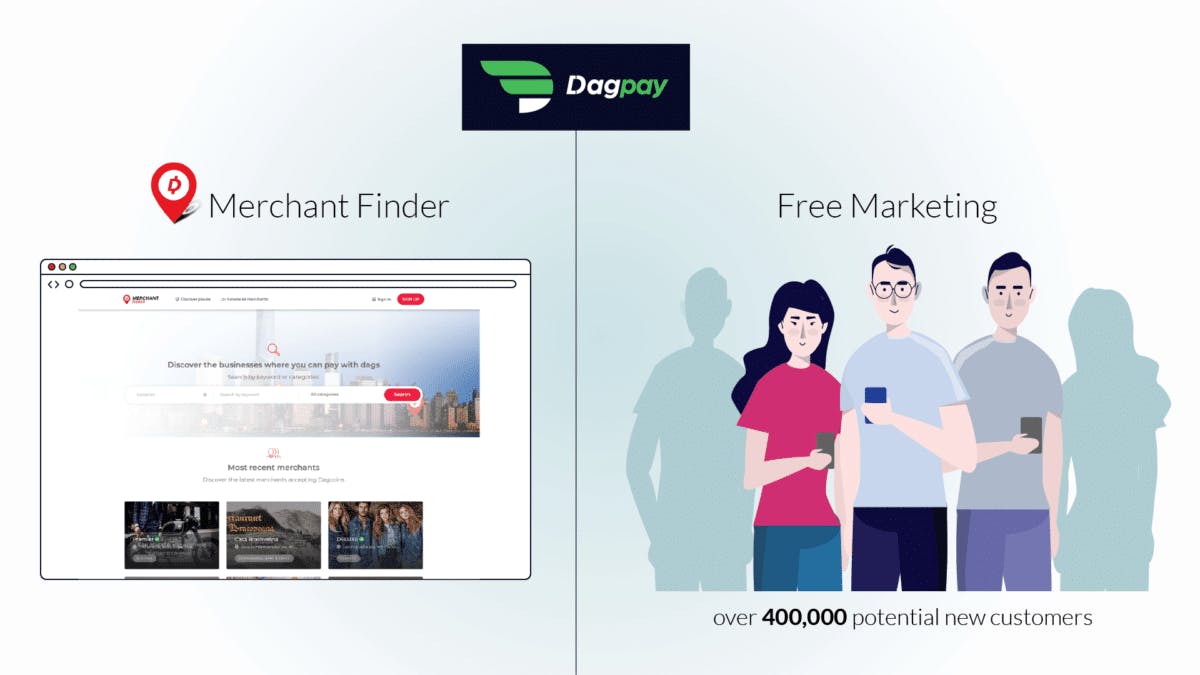 Because the Merchant Finder tool is also viewable to Dagcoin users this means that more than 400,000 people (and that number is growing every day) have the ability to search for and find your company. Just like for merchants, Dagcoin users can also filter their search by location, sector, etc. To find businesses who accept Dagcoins in their local area, or who have the products they need.
Who could say no to free advertising like that?
Conclusion
Just one year ago only 200 businesses accepted Dagcoin as a payment option through Dagpay. Today that figure is over 1000 and continuing to grow. And it is for 5 major reasons:
A free Point of Sale (POS) system that makes it possible to accept Dagcoin payments at your shop, café or gym just as quickly and as easily as a debit or credit card payment.
Free Webshop Plugins that let you accept Dagcoin as a payment option on your online store.
An Email Invoicing tool that lets you create and send invoices in seconds and get paid in dags.
A Merchant Finder tool that lets you find and contact other business who accept Dagcoin as a payment method. Are you looking for a new vendor, supplier or partner? And…
It enables Dagcoin users to also find your business. Would you say no to more than 400,000 possible new clients?
Join a community of over 1000 businesses currently using Dagpay.